Atlas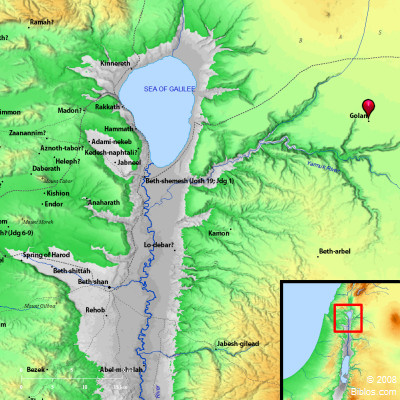 ---
Maps Created using Biblemapper 3.0
Additional data from OpenBible.info
---
You are free to use up to 50 Biblos coprighted maps (small or large) for your website or presentation. Please credit Biblos.com.
Occurrences
Deuteronomy 3:13
and the rest of Gilead, and all Bashan, the kingdom of Og, gave I to the half-tribe of Manasseh; all the region of Argob, even all Bashan. (The same is called the land of Rephaim.
Encyclopedia
REPHAIM
ref'-a-im, re-fa'-im (repha'-im, from rapha', "a terrible one "hence "giant," in 1 Chronicles 20:4, yelidhe ha-rapha', "sons of the giant"; the King James Version, Rephaims): A race of aboriginal or early inhabitants East of the Jordan in Ashterothkarnaim (Genesis 14:5) and in the valley of Rephaim Southwest of Jerusalem (Joshua 15:8). They associated with other giant races, as the Emim and Anakim (Deuteronomy 2:10, 11) and the Zamzummim (Deuteronomy 2:20). It is probable that they were all of the same stock, being given different names by the different tribes who came in contact with them. The same Hebrew word is rendered "the dead," or "the shades" in various passages (Job 26:5 margin; Psalm 88:10 margin; Proverbs 2:18 margin; Proverbs 9:18 margin; Proverbs 21:16 margin; Isaiah 14:9 margin; Isaiah 26:14, 19 margin). In these instances the word is derived from rapheh, "weak," "powerless," "a shadow" or "shade."

H. Porter
---
REPHAIM, valley of, perhaps is the little valley el Werd about 4 ms. s.w. of Jerusalem.
Strong's Hebrew
H7497: Rapha
inhab. of an area East of the Jordan