Atlas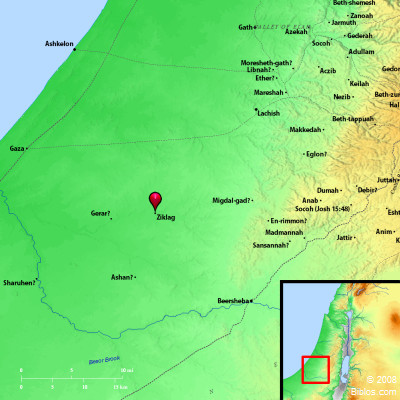 ---
Maps Created using Biblemapper 3.0
Additional data from OpenBible.info
---
You are free to use up to 50 Biblos coprighted maps (small or large) for your website or presentation. Please credit Biblos.com.
Occurrences
Joshua 15:31
Ziklag, Madmannah, Sansannah,
Joshua 19:5 Ziklag, Beth Marcaboth, Hazar Susah,
1 Samuel 27:6 Then Achish gave him Ziklag that day: why Ziklag pertains to the kings of Judah to this day.
1 Samuel 30:1 It happened, when David and his men were come to Ziklag on the third day, that the Amalekites had made a raid on the South, and on Ziklag, and had struck Ziklag, and burned it with fire,
1 Samuel 30:5 David's two wives were taken captive, Ahinoam the Jezreelitess, and Abigail the wife of Nabal the Carmelite.
1 Samuel 30:14 We made a raid on the South of the Cherethites, and on that which belongs to Judah, and on the South of Caleb; and we burned Ziklag with fire."
1 Samuel 30:26 When David came to Ziklag, he sent of the spoil to the elders of Judah, even to his friends, saying, "Behold, a present for you of the spoil of the enemies of Yahweh."
2 Samuel 1:1 It happened after the death of Saul, when David was returned from the slaughter of the Amalekites, and David had abode two days in Ziklag;
2 Samuel 4:10 when someone told me,'Behold, Saul is dead,' thinking to have brought good news, I took hold of him, and killed him in Ziklag, which was the reward I gave him for his news.
1 Chronicles 4:30 and at Bethuel, and at Hormah, and at Ziklag,
1 Chronicles 12:1 Now these are those who came to David to Ziklag, while he yet kept himself close because of Saul the son of Kish; and they were among the mighty men, his helpers in war.
1 Chronicles 12:20 As he went to Ziklag, there fell to him of Manasseh, Adnah, and Jozabad, and Jediael, and Michael, and Jozabad, and Elihu, and Zillethai, captains of thousands who were of Manasseh.
Nehemiah 11:28 and in Ziklag, and in Meconah and in its towns,
Encyclopedia
ZIKLAG
zik'-lag (tsiqelagh, tsiqelagh (2 Samuel 1:1), tsiqelagh (1 Chronicles 12:1, 20); usually in the Septuagint Sekelak, or Sikelag): A town assigned (Joshua 19:5 1 Chronicles 4:30) to Simeon, but in Joshua 15:31 named, between Hornah and Madmannah, as one of the cities of the Negeb of Judah, "toward the border of Edom." It is said (1 Samuel 27:6) to have remained a royal city. In Nehemiah 11:28 it is in the list of towns reinhabited by the returning children of Judah. Its chief associations are with David. Achish the Philistine king of Gath gave it to David as a residence (1 Samuel 27:6 1 Chronicles 12:1, 20); it was raided by the Amalekites, on whom David took vengeance and so recovered his property (1 Samuel 30:14, 26); here the messenger who came to announce Saul's death was slain (2 Samuel 1:1; 2 Samuel 4:10).

The site of this important place is not yet fixed with certainty; Conder proposed Zucheilika, a ruin 11 miles South-Southeast of Gaza, and 4 miles North of Wady es-Sheri'a, which may be the "Brook Besor" (1 Samuel 30:9, 10, 21); Rowland (1842) proposed `Asluj, a heap of ruins South of Beersheba and 7 miles to the East of Bered. Neither site is entirely satisfactory. See Williams, Holy City, I, 463-68; BR, II, 201, PEF, 288, Sh XX.

E. W. G. Masterman
Strong's Hebrew
H6860: Tsiqelag
a city assigned to Judah, also to Simeon