Atlas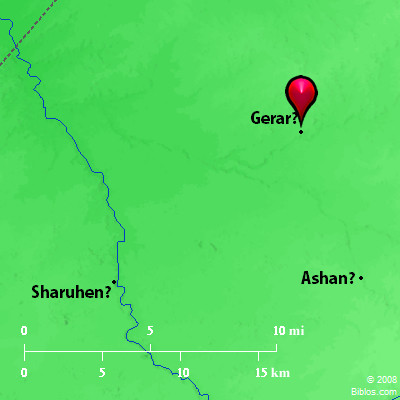 ---
Maps Created using Biblemapper 3.0
Additional data from OpenBible.info
---
You are free to use up to 50 Biblos coprighted maps (small or large) for your website or presentation. Please credit Biblos.com.
Occurrences
Genesis 26:20
The herdsmen of Gerar argued with Isaac's herdsmen, saying, "The water is ours." He called the name of the well Esek, because they contended with him.
Encyclopedia
ESEK
e'-sek (eseq; Septuagint Adikia):

The name given by Isaac to a well dug by his servants, for the use of which the herdsmen of Gerar strove with them-"contention" (Genesis 26:20). It lay in the neighborhood of Rehoboth and Gerar: but the site is not identified.
Strong's Hebrew
H6230: Eseq
"contention," a well in Gerar