Atlas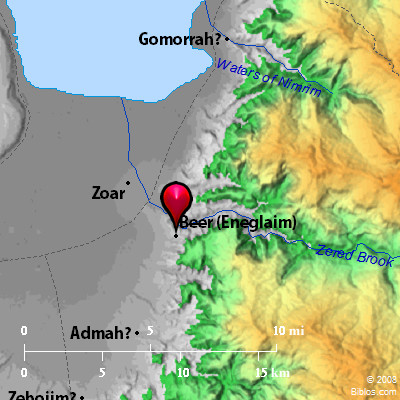 ---
Maps Created using Biblemapper 3.0
Additional data from OpenBible.info
---
You are free to use up to 50 Biblos coprighted maps (small or large) for your website or presentation. Please credit Biblos.com.
Occurrences
Isaiah 15:8
For the cry has gone around the borders of Moab; its wailing to Eglaim, and its wailing to Beer Elim.
Encyclopedia
EGLAIM
eg'-la-im ('eghlayim; Agaleim):

A place named in Isaiah 15:8, possibly in the South of Moab. Eusebius (Onomasticon) identifies it with Agallim, a village 8 Roman miles South of Areopolis. It cannot now be identified.
Strong's Hebrew
H97: Eglayim
a city in Moab