Atlas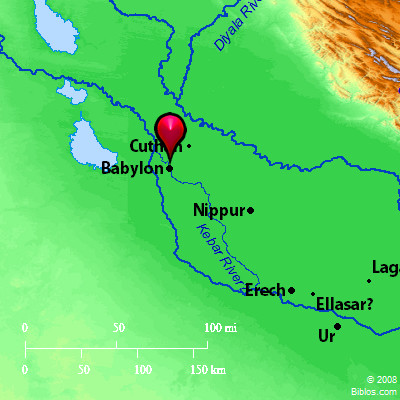 ---
Maps Created using Biblemapper 3.0
Additional data from OpenBible.info
---
You are free to use up to 50 Biblos coprighted maps (small or large) for your website or presentation. Please credit Biblos.com.
Occurrences
Genesis 10:10
The beginning of his kingdom was Babel, Erech, Accad, and Calneh, in the land of Shinar.
Genesis 11:9 Therefore its name was called Babel, because there Yahweh confused the language of all the earth. From there, Yahweh scattered them abroad on the surface of all the earth.
Encyclopedia
BABEL, BABYLON (1)
ba'-bel, bab'-i-lon (Topographical): Babylon was the Greek name of the city written in the cuneiform script of the Babylonians, bab-ili, which means in Semitic, "the gate of god." The Hebrews called the country, as well as the city, Babhel. This name they considered came from the' root, balal, "to confound" (Genesis 11:9). The name in Sumerian ideographs was written Din-tir, which means "life of the forest," and yet ancient etymologists explained it as meaning "place of the seat of life" (shubat balaTe). Ka-ding'irra, which also means "gate of god," was another form of the name in Sumerian. It was also called Su-anna (which is of uncertain meaning) and Uru-azagga, "the holy city."

Herodotus, the Greek historian, has given us a picture of Babylon in his day. He says that the city was a great square, 42 miles in circuit. Ctesias makes it 56 miles. This, he writes, was surrounded by a moat or rampart 300 ft. high, and 75 ft. broad. The earliest mention of Babylon is in the time of Sargon I, about 2700 B.C. That monarch laid the foundations of the temple of Annnit, and also those of the temple of Amal. In the time of Dungi we learn that the place was sacked. The city evidently played a very unimportant part in the political history of Babylonia of the early period, for besides these references it is almost unknown until the time of Hammurabi, when its rise brought about a new epoch in the history of Babylonia. The seat of power was then transferred permanently from the southern states. This resulted in the closing of the political history of the Sumerians. The organization of the empire by Hammurabi, with Babylon as its capital, placed it in a position from which it was never dislodged during the remaining history of Babylonia.

The mounds covering the ancient city have frequently been explored, but systematic excavations of the city were not undertaken until 1899, when Koldewey, the German excavator, began to uncover its ancient ruins in a methodical manner. In spite of what ancient writers say, certain scholars maintain that they grossly exaggerated the size of the city, which was comparatively small, especially when considered in connection with large cities of the present era.

In the northern part of the city there was situated what is called the North Palace on the east side of the Euphrates, which passed through the city. A little distance below this point the Arakhtu canal left the Euphrates, and passing through the southern wall rejoined the river. There was also a Middle and Southern Palace. Near the latter was located the Ishtar gate. The temple E-makh was close to the east side of the gate. Other canals in the city were called Merodach and Libilkhegala. In the southern portion of the city was located the famous temple E-sag-ila. This temple was called by the Greek historian, "the temple of Belus." Marduk or Merodach (as written in the Old Testament), the patron deity of the city, received from Enlil, as Hammurabi informs us, after he had driven the Elamites out of Babylonia, the title "bel matate," "lord of lands," not the name which Enlil of Nippur had possessed. In the past there has been a confusion. The idcogram Enlil or Ellil had been incorrectly read Bel. This necessitated speaking of the old Bel and the young Bel. Beyond being called bel, "lord," as all other gods were called; Enlil's name was not Bel. Marduk is the Bel of the Old Testament, as well as the god called Bel in the Assyrian and Babylonian inscriptions.

The temple area included an outer, central and inner court. The shrine of Ishtar and Zamama occupied the central court, and the ziggurrat the inner court. In the temple proper, the shrine Ekua was located, in which stood the golden image of Marduk. This, the ancient writers say, was 40 ft. high. On the topmost stage there was a shrine dedicated to Marduk. It is assumed that it was 50 ft. long by 70 ft. broad and 50 ft. in height. Nabopolassar rebuilt the temple and its tower. Nebuchadrezzar enlarged and embellished the sanctuary. He raised the tower so that "its head was in the heavens," an expression found in the story of the Tower of Babel in Genesis, as well as in many of the building inscriptions. See Clay, LOTB, Babel, 121, and the article on BABEL, TOWER OF. One of the chief works of Nebuchadrezzar was the building of Aiburshabu, the famous procession street of the city, which extended from the Ishtar gate to E-sag-ila. It was a great and magnificent causeway, built higher than the houses. Walls lined it on either side, which were decorated with glazed tiles, portraying lions, life size in relief. The pavement was laid with blocks of stone brought from the mountains. This procession street figured prominently on the New Year's festal day, when the procession of the gods took place.

A knowledge of the work Nebuchadrezzar did serves as a fitting commentary to the passage in Daniel 4:30: "Is not this great Babylon, which I have built?" He had made the city one of the wonders of the world.

The two sieges by Darius Hystaspes and the one by Xerxes destroyed much of the beauty of the city. Alexander desired to make it again a great center and to build an immense fortress in the city; but in the midst of this undertaking he was murdered, while living in the palace of Nebuchadrezzar. The temple, though frequently destroyed, was in existence in the time of the Seleucids, but the city had long since ceased to be of any importance.

See also BABYLONIA.

A. T. Clay